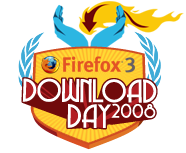 Join us in our mission to set a Guinness World Record for the most software downloaded in 24 hours!
Itulah tagline yang diusung Firefox dalam rangka peluncuran Firefox 3. Menurut rencana Firefox 3 akan diluncurkan pada tanggal 17 Juni 2008. Dalam situsnya disampaikan sebagai berikut :
Sounds like a good deal, right? All you have to do is get Firefox 3 during Download Day to help set the record for most software downloads in 24 hours – it's that easy. We're not asking you to swallow a sword or to balance 30 spoons on your face, although that would be kind of awesome.


Misi utamanya adalah membuat rekor download dalam 24 jam. Dengan men-download firefox pada tanggal 17 Juni 2008, maka kita sudah berkontribusi kepada Firefox untuk membuat rekor dunia. Namun sebelumnya daftarkan email anda untuk ikut serta dalam misi ini.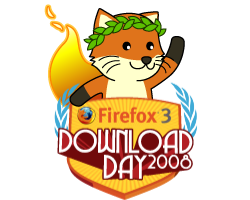 Jadi tunggu apa lagi?